MAY 2016 Edition - Designed by Steve Tilbrook to benefit Wear for Success
PARTNERS
Steve Tilbrook
Fashion Influencer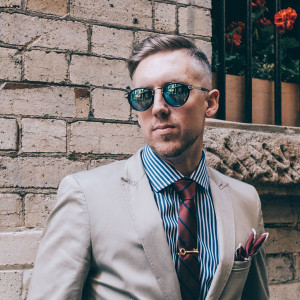 Adelaide based style influencer and blogger Steve Tilbrook knows how to mix and match colours, patterns and textures to create office outfits that turn heads. New to the mens' style influencer game, Steve has quickly gained a large following through his subtle use of bright colours mixed with bold shirt designs and modern suits. Growing his Instagram following to over 60K in just 12 months with his daily self-styled posts, Steve now pens a regular monthly blog.
Steve's sock design for May was inspired by his belief that we can all put our best foot forward.
More of Steve's style can be seen on his instagram feed instagram/stevetillystyle
Wear for Success
Charity
Wear for Success is dedicated to helping disadvantaged men and women prepare themselves for work. By providing free quality clothing and styling services, as well as qualified employment training and advice the volunteers of Wear for Success give underprivileged job seekers the confidence they need to secure employment. Since launching Wear for Success have supported over 2,500 people on their journey back to work. Everyone has potential. Wear for Success helps them find it.
Sales and subscriptions in May provided ties and jackets to men returning to the workforce after experiencing hardship.
More information on Wear for Success can be found at wearforsuccess.org.au